If you uninstall the Samsung Secure Folder, the data inside will be deleted.
In this modern age, where your smartphone carries a plethora of your personal and business information, it is imperative to ensure the privacy and security of your data. One such method of safeguarding your information is through applications like Samsung Secure Folder. The main question at hand, however, is: Will your data be saved if you uninstall Samsung Secure Folder? The answer is intertwined with understanding what a Samsung Secure Folder is, how it operates, what happens when it is uninstalled, and how to recover your data afterward.
Understanding Samsung Secure Folder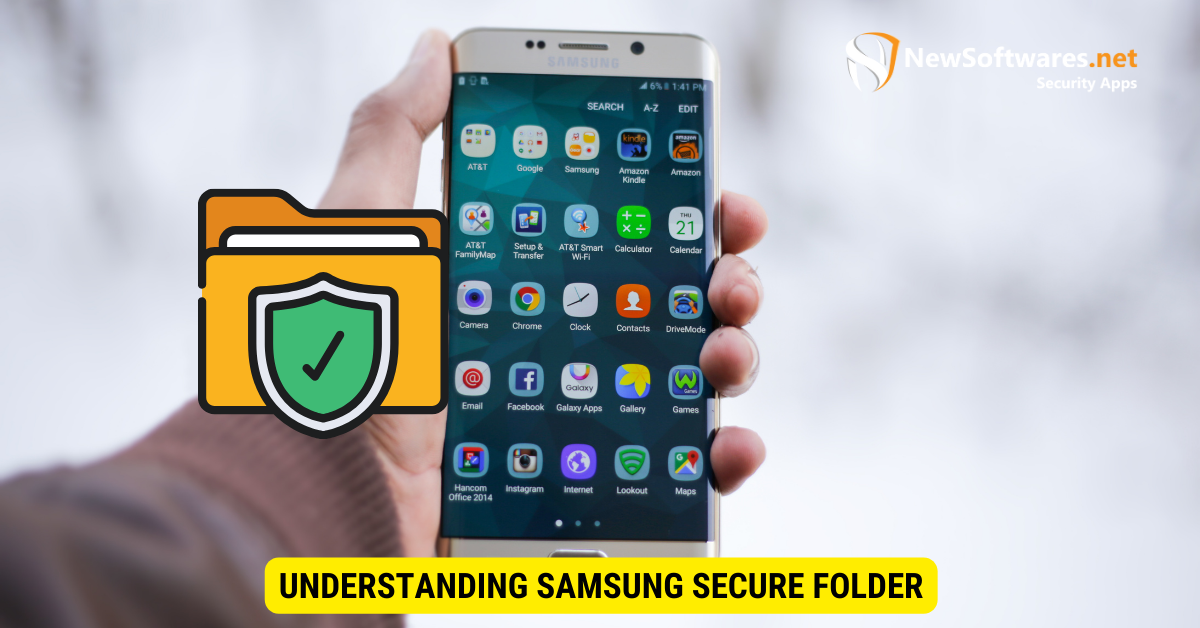 What is Samsung Secure Folder?
Samsung Secure Folder is a powerful security solution provided by Samsung that offers users a private and encrypted space on their Samsung devices. It effectively protects important files from unwanted access, ensuring the utmost confidentiality. The foundation of this technology is the Samsung Knox security platform, a robust form of integrated security that is embedded in Samsung's devices.
Users can store videos, photos, and even applications in this secure space, apart from regular documents. While it is primarily used on Samsung smartphones and tablets, it can also be utilized on PCs with the help of Samsung DeX.
When securing your personal information, Samsung Secure Folder goes above and beyond. It provides a secure space for files and offers additional features such as fingerprint or PIN authentication to ensure that only authorized individuals can access the stored data. This makes it an ideal solution for individuals who value their privacy and want to protect sensitive information.
Importance of Samsung Secure Folder
Why should one use Samsung Secure Folder? The need for the additional layer of protection for sensitive files and data it offers cannot be overstated. By providing an encrypted storage space, Samsung Secure Folder ensures that even when losing your device, your files remain safe from unauthorized use or access.
This added layer of protection becomes essential for users who commonly use their devices for sensitive work-related tasks or those who want to protect their private information and data. More than just a 'folder,' it's a reliable fortress of security.
Furthermore, Samsung Secure Folder offers seamless integration with various Samsung apps and services. This means that you can easily transfer files between your secure folder and other applications without compromising the security of your data. Whether you want to share a private photo with a friend or access a secure document while on the go, Samsung Secure Folder ensures that your files are always readily available and protected.
Additionally, Samsung Secure Folder provides a convenient way to organize your files. With the ability to create subfolders and categorize your documents, photos, and applications, you can easily find and access your files whenever needed. This level of organization enhances productivity and ensures that your important files are well-structured and easy to locate.
Moreover, Samsung Secure Folder offers a backup and restore feature, allowing you to safeguard your files even in the face of unforeseen circumstances. In the event of accidental deletion or device malfunction, you can rest assured knowing that your files are securely backed up and can be easily restored to your device.
Overall, Samsung Secure Folder is a comprehensive security solution that gives users peace of mind when protecting their sensitive files and data. With its advanced encryption capabilities, seamless integration with other applications, convenient organization features, and backup and restore functionality, Samsung Secure Folder is the go-to solution for individuals prioritizing privacy and data security.
How Samsung Secure Folder Works
The Samsung Secure Folder is a powerful tool that allows users to keep their sensitive files and apps protected on their Samsung devices. This feature provides an additional layer of security, ensuring that only authorized individuals can access the folder's contents.
Setting up Samsung Secure Folder
Setting up the Samsung Secure Folder is a straightforward process that can be done in just a few simple steps. Once you open the Secure Folder app, it prompts you to sign in to your Samsung account, ensuring that your data remains securely tied to your device.
After signing in, you are presented with the option to choose the lock method to secure the folder. You can opt for a Pattern, Pin, or Password or even use your device's latest Biometric authentication features, such as fingerprint or facial recognition technology.
Once you select your preferred lock method, you can use the Secure Folder. It's that easy! You now have a protected space on your device to store your private files and apps.
But the customization options don't stop there. You can also personalize your Secure Folder by customizing its icon and name. This allows you to stealthily blend it with your regular apps, making it even more discreet and secure. Additionally, you can hide the Secure Folder from the home screen and quick panel for an added security layer.
Adding Files to Samsung Secure Folder
Adding files to the Secure Folder is as easy as pie, making it a convenient solution for organizing and protecting sensitive data. You have multiple methods, depending on your preference and convenience.
The first method is to add files directly from the native file explorer on your device. This means that you can navigate to the file you want to protect, select it, and choose the option to move it to the Secure Folder. This seamless integration allows for a hassle-free experience, ensuring your files are quickly and securely transferred to the protected environment.
Another method is the "Move to Secure Folder" option, which can be accessed by long-pressing a file, photo, or even an app. This quick and easy method lets you move files directly to the Secure Folder without opening the app.
Lastly, you can add files directly from within the Secure Folder. This method is particularly useful when organizing your files within a protected environment. With just a few taps, you can create new folders, move files around, and ensure that everything is neatly organized and easily accessible.
It's worth noting that every file moved to the Secure Folder is a separate copy and does not affect the original. This means you can keep a regular-use copy of your files outside the Secure Folder while still having a protected version. This flexibility allows you to maintain a seamless workflow, ensuring your sensitive files are always secure and readily available for everyday use.
The Samsung Secure Folder provides a comprehensive solution for anyone looking to protect their private files and apps. Its easy setup process, customizable options, and convenient file management features make it a must-have tool for individuals who value privacy and security.
Uninstalling Samsung Secure Folder
Steps to Uninstall Samsung Secure Folder
Uninstalling Samsung Secure Folder is just like uninstalling any other application. You can head to settings, find 'Secure Folder' under 'Biometrics and Security,' and press 'Uninstall.'
Remember, uninstalling Secure Folder will also delete all the data it contains. Therefore, backing up any crucial data before uninstallation is crucial.
Before we dive into the steps of uninstalling Samsung Secure Folder, let's take a moment to understand what it is and why users might choose to uninstall it.
Samsung Secure Folder is a feature available on Samsung devices that allows users to create a private, encrypted space. It provides an added layer of security for sensitive files, applications, and documents. However, there may be various reasons why someone would want to uninstall this feature.
Perhaps the user no longer needs the additional security provided by Secure Folder, or maybe they have found an alternative solution that better suits their needs. Whatever the reason, knowing the correct steps to uninstall Samsung Secure Folder is essential to ensure a smooth and successful process.
Open the Settings app on your Samsung device.
Scroll down and tap on 'Biometrics and Security.'
Within the 'Biometrics and Security' menu, locate and tap on 'Secure Folder.'
Once you are in the Secure Folder settings, you will find an option to 'Uninstall' the feature. Tap on it.
A confirmation message will appear, asking if you want to uninstall Secure Folder. Review the message and tap 'Uninstall' again to proceed.
Depending on your device, you may be prompted to enter your device password, PIN, or pattern to confirm the uninstallation.
After entering the necessary authentication, the uninstallation process will begin.
Once the process is complete, the Samsung Secure Folder will be successfully uninstalled from your device.
It's important to note that the steps may vary slightly depending on the specific Samsung device model and software version. However, the general process remains the same.
What Happens When You Uninstall Samsung Secure Folder?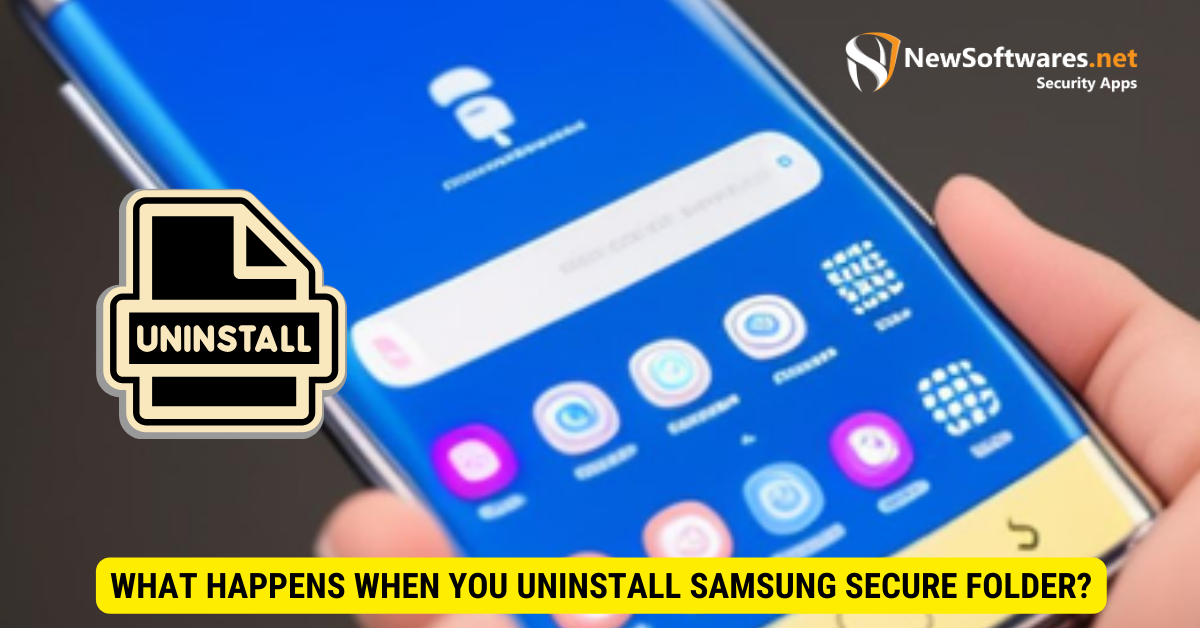 Once you uninstall the Samsung Secure Folder, all its contents — including applications, media files, and documents — get permanently deleted. There's no straightforward way of getting those files back. So, before uninstalling, you must ensure you've backed up all significant files separately.
The data inside the Secure Folder doesn't automatically get saved elsewhere upon uninstallation. It's essential to understand this to prevent accidental data loss.
Now, let's delve deeper into the consequences of uninstalling Samsung Secure Folder:
Loss of Encrypted Data: When you uninstall Secure Folder, all the files and applications stored within it will be permanently deleted. This includes sensitive documents, private photos, confidential files, and any other content you have placed inside the folder for added security. It's crucial to take the necessary precautions to prevent the loss of any important data.
No Recovery Options: Unlike some applications that offer a recovery or backup option, Samsung Secure Folder does not provide a built-in method to restore your data after uninstallation. Therefore, creating backups of any essential files is imperative before proceeding with the uninstallation process.
Increased Device Storage: Uninstalling Samsung Secure Folder can free up a significant amount of storage space on your device. This can be particularly beneficial if you are running low on storage capacity and need to make room for other apps, media files, or documents.
Enhanced Privacy: While Samsung Secure Folder offers an extra layer of security for your sensitive data, it is important to note that uninstalling the feature can also enhance your privacy. Removing the Secure Folder eliminates the risk of unauthorized access to its contents, providing peace of mind for those who prefer not to use this feature.
Alternative Security Solutions: If you find that Samsung Secure Folder no longer meets your needs or prefer to explore other security options, uninstalling the feature opens the door for alternative solutions. There are numerous third-party applications available that offer similar functionality or even more advanced security features.
As with any significant change to your device's settings or applications, it is advisable to carefully consider the implications and potential consequences before proceeding with the uninstallation of Samsung Secure Folder. By understanding what happens during and after the uninstallation process, you can make an informed decision that aligns with your needs and preferences.
Data Safety and Samsung Secure Folder
Will Your Data Be Saved After Uninstallation?
The direct answer to the question is No. Your data won't be saved automatically once the Secure Folder is uninstalled. You must manually move or back up your vital data before uninstalling Secure Folder. If not, you risk losing all the files stored within the folder.
Therefore, before planning to uninstall or factory reset your device, it's important to back up your Secure Folder contents separately, either to your Samsung Cloud account or any other external memory.
How to Recover Data After Uninstallation
You can easily restore the data if you have backed up your data before uninstalling the Samsung Secure Folder. Samsung Cloud provides a direct option to restore the Secure Folder data when you reinstall the Secure Folder. But the data is likely lost for good if you didn't make a backup.
Some third-party software may claim to recover deleted Secure Folder data. However, it's essential to mind the security and trustworthiness of such software. Using unreliable software might put your data at further risk.
Alternatives to Samsung Secure Folder
Other Secure Folder Apps
Other secure folder apps are available, such as AppLock, Keepsafe Photo Vault, and Secure Folder by Harihar. They offer similar functionality that places privacy and security at the core but may differ in design, user interface, and features.
Also, it's essential to check the compatibility of these apps with your device and evaluate whether the features align with your requirements before making a switch.
Pros and Cons of Alternatives
Every app offers its unique strengths and shortcomings. Some apps might offer multiple vaults, stealth mode, fake vaults, or break-in alerts, while some might fall short regarding customer support and user interface.
Furthermore, some apps may contain annoying ads, or premium features might require in-app purchases. So, it's important to weigh the pros and cons carefully when considering one of these alternatives to Samsung Secure Folder.
Key Takeaways
FAQs
What is the primary function of Samsung Secure Folder?
It provides an isolated and encrypted space for private data on Samsung devices.
Will I lose my files if I uninstall Secure Folder?
Yes, uninstalling the Samsung Secure Folder will delete the data.
How can I back up my data from the Secure Folder?
Before uninstalling, manually transfer or back up the data to another location or cloud storage.
Can I retrieve my data if I reinstall Secure Folder after uninstalling?
No, reinstalling the app won't recover previously stored data.
Is there a way to protect my data in the Secure Folder from accidental deletion?
Always maintain regular backups and avoid uninstalling the app without transferring the data first.
Conclusion
In conclusion, If you uninstall the Samsung Secure Folder, all data inside it will be permanently deleted. It's essential to back up any crucial information before uninstallation to avoid unintended data loss. Once uninstalled, there isn't a direct method to retrieve the data unless a backup was made prior to the removal.