In our daily lives, we spend our times on different errands and forget what requires our utmost attention. Since the birth of computer, life has become quite easier, faster and better regarding accessibility, connectivity, and data storage. Now we can create and store unlimited tons of data including photos, videos, audios, files, etc. in our hard drives. Everything that was previously stored in cupboards for safekeeping and later-use can now be stored in USBs, drives, etc.
However, the convenience this age offers also attracts some brutality. In simple words, our data stored on our hard drives isn't safe at all. Within seconds, our data can be wiped off without even our consent. There exists a group of people who work 24/7 to steal your data (without your consent) for their benefits. So it's hard to say our data is safe at all.
But above all, to every problem, there exists an equal solution. A software by the name 'Folder Protect' lets you maintain bullet-proof security of your files and folders with the help of its password protection feature. This software keeps you protected even when you leave your device idle.
Folder protect is an improved folder protection software that lets you protect folders, drives, files, extensions, and programs. It lets you restrict anyone from accessing, modifying, viewing and deleting your confidential files and folders. Also, this software cannot be uninstalled without a password, and only a genuine user can do so using the respective password. Furthermore, Folder Protect is perfectly compatible to work with Windows 10/8/7/Vista and more. Extensions that Folder Protect covers include *.avi, *.gif, *.jpeg, *.bmp, *.mp3, * .wmv, * .mpeg, * .doc and many more.
You can set different access rights to your folders, drivers, files, etc. and go beyond the normal encryption and file locking to make sure you stay out of trouble.
READ MORE: GUIDE TO PROTECTING FOLDERS IN 2017
Folder Protect as the name suggests keeps you covered from all directions and restricts all the prying eyes from damaging your data. Below are some of the features that Folder Protect comprises of:
Auto-Protection feature: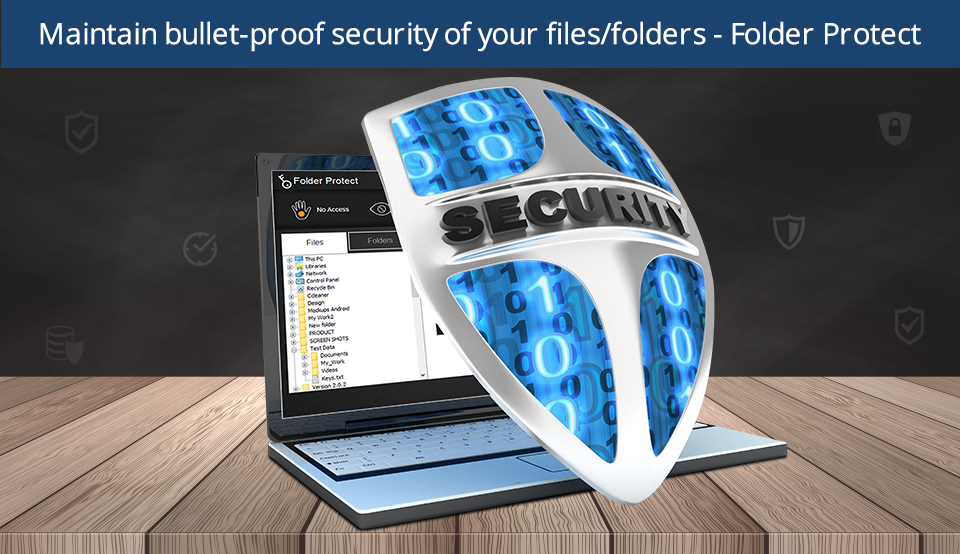 After a certain period, Folder Protect turns the protection on. Hence in case if you have left your PC idle for a few minutes or a certain period, the auto protection feature comes into play and gets automatically activated. Also, you can alter or change the period as per your needs and maintain a constant peace of mind knowing there exists a software that keeps you protected behind your back.
Instant File Protection:
You can lock files in only a mere few seconds. The most common type of data including photos, audios, documents, folders, etc. can be easily protected with the help of Folder Protect's password protection option. Therefore the threats of data duplication decrease to none if you're using Folder Protect as it lets you feel safe knowing Folder Protect is active even if you're not.
Prompt Password Protection:
There are two ways by which you can protect your executable. The two ways of protection are 'Deny Access' and 'Prompt Password'. The first feature (deny access) will convert your executable into inaccessible files and would only be accessed when the feature is disabled or deactivated. Similarly, you may use 'prompt password feature' to access the respective executable.
Hence, Folder Protect as the name suggests is well equipped with all the needed features that might be required by a user looking for something secure.
Wanna know how Folder Protect works? click this link: http://www.newsoftwares.net/folder-protect/howto/