What is Folder Lock?
Folder Lock lets you password-protect files, folders and drives; encrypt your important files on-the-fly; backup them in real-time; protect portable drives; shred files & drives and clean history. It is the most downloaded file-security application with more than 45 million users. It works on 32-bit and 64-bit Windows 10, 8, 7, and Windows Server 2008, 2012, 2016, 2019.
Lock folders in seconds
Encrypt files on-the-fly
Sync & Backup Encrypted files
Password-protect USB/External Drive
Shred and Permanently delete files
Clean Windows History
Stealth Mode
Save Wallets / Cards / Passwords.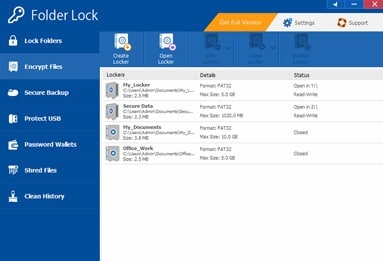 Folder Lock offers one place to keep all your private files – your Locker. Drag & drop all files you want – they are protected from privacy breach, theft & misuse.
Folder Lock is available for Windows 10 / 8 / 7 and Windows Server 2008 / 2012 / 2016 / 2019 (all 32-bit and 64-bit variants). It is currently the most downloaded file-security application with more than 50 million downloads. Folder Lock has received scores of 5 star reviews, awards and accolades –          some noteworthy are: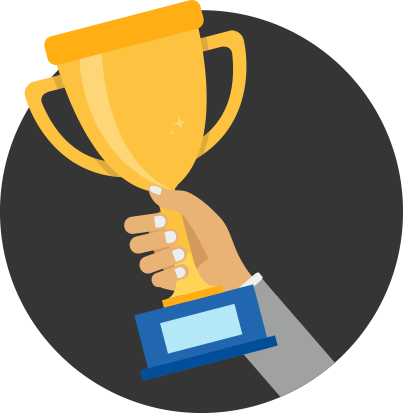 Editors' Choice award by PCMag - 5th Year in a row for 2018
Jack-of-all-Trade for File Encryption coined by PCWorld
#1 Encryption Software listed by WindowsReport
Best Encryption Software by WindowsCenteral
Recommended by Softonic as Excellent Folder Protection app
Featured in WallStreet Journal's Mossberg's Mailbox - May 27, 2004 issue
Gold Award - Top Pick at TopTenReviews. They stated in their review:
"Folder Lock is encryption software that you can truly trust to protect your files and data. This program uses the Advanced Encryption Standard 256-bit key, which is the algorithm that many governments trust with their classified information across departments."
Folder Lock is trusted by large corporations and government institutions.[4]
Some of our clients are:
* National Aeronautics and Space Administration (NASA)
* United States Army (USA)
* United States Marine Corps (USMC)
* United States Navy (USN)
* Federal Aviation Administration (FAA)
* United States Department of Homeland Security (DHS)
* United States Department of Justice (USDOJ)
* National Institute of Standards and Technology (NIST)
* United States Patent and Trademark Office (USPTO)
Why Folder Lock is trusted by experts and government authorities?
We Know What We're Doing
Folder Lock is in development and improvement since 2002. Yes! We're older than Facebook and Google. And since then we have not received any reports of any breach of encrypted data caused by the use of our product.
We use our own Products
Yes we really do! That's how we know which enhancement and bug fixes are vital. We've discovered the secret formula; if the product works great for us; it works great for everyone else too. However, your feedback is what keeps us excited and on the track. So never stop suggesting.
Nothing is Swept under the Carpet
We disclose everything in our license agreement, privacy policy, product and website content about the limitations of our products and how we treat your information. Everything is crystal clear; nothing is swept under the carpet.
Endured the Fiercest of Blows
From version 4 to version 10, our company has stood up to a zero debt status and for all these years we have survived and sufficiently handled criticisms, legal actions and other challenges with a clear conscience and a chin up.
No Backdoors; no Loopholes
Folder Lock saves your encrypted files either on your own computer or your own cloud service and not on our server. Furthermore, your passwords are not saved anywhere on your Computer leaving no backdoors [1] [2]. Just be sure to NEVER forget your password, NEVER share your password, NEVER leave your device unattended after decryption and NEVER fall for a hacker's or a phisher's trap exposing your password.
Minimal; Feature-Rich; Powerful
Folder Lock is loaded with features that you'll learn as you continue to use it. It's both easy to use and feature-rich; thanks to its new uncluttered user-interface. We enjoy handcrafting every bit of it and we hope you fall in love with it. Our inspiration has always been to become a house hold name when it comes to data security. Let us know how we're doing?
How Secure is 256-bit AES Encryption?
If 10 billion computers are used to attempt to crack data encrypted with 256-bit AES Encryption using 'brute force' attack (best known method) then it would take 100 billion years to try all possible keys. And the universe is only 13.7 billion years old[1]. So if you worry about hackers; rest assured they can't just try every possible password before the heat death of the universe. However, the above scenario is feasible only if you have a good password one that's not easily breakable by dictionary attacks or guesswork.
[1] More detailed information on the 256-bit AES Encryption is mentioned on this Wikipedia article.
[2] Folder Lock uses military grade 256-bit AES Encryption on all computer files regardless of file format in Desktop Locker, Dropbox Locker, Google Drive Locker and OneDrive Locker folders except for Mobile Locker. In Mobile Locker documents, archives and other formats are encrypted as well except photo, video and audio files. These are mobile only media files. Folder Lock uses another method of data security for these files. Using another method ensures faster content display on mobile devices as there are no fast on-the-fly encryption methods available on mobile phones for large media files).
[3] Whether viruses, hacker tools, trojans, malware, spyware, ransomware, third-party apps, malicious programs or harmful scripts - Since Folder Lock encrypts files on their original location and displays content only in virtual drive and at the same time offers to backup them on the cloud, it offers a reliable method to protect you from all these threats. However, you should still be careful about phishing attacks, keyloggers, clipboard loggers, print screen loggers and many other threats that use other clever methods to breach your privacy. We are planning to introduce anti-keylogger, anti-clipboard logger and anti-print screen logger in future. So wait to be surprised as we roll out updates.
[4] References to government authorities and institutes mentioned above are 100% true and can be verified through third-party companies that have verified and fulfilled these orders or they can be verified by us if the need arises. However, since there are privacy matters involved; only authorized US government personals can be furnished with such a disclosure.