You arrive at your destination and park your car, you then put the car in park and remove the key to shut off the engine. You get out of your car and you instinctively lock your car. Locking is something that is ingrained in human nature. Whether its locking your car, locking doors, locking cabinets, file locking or any other type of locking, it's something every human applies priority.
Although the primary discussion is one File Locking, and the implications of not using File Locking, the following paragraphs discussed how File Lock is a universal concept. For example, if you failed to lock your car, you know what could happen. Someone can get into your car and steal your stuff, or they may even be able to steal your car. Likewise, if you don't lock your house doors, burglars can get in and steal your appliances, furniture and anything deemed valuable by them. However, a door lock is often not sufficient to keep out determined thieves, you also need a home burglar alarm which can alert the police in case someone manages to break into your home. Likewise, a simple door lock on a car is often not sufficient – depending on where you live – you may need to install an alarm and a tracking device to deter determined thieves.
Accordingly, File Locking is applied under the same principle. Sure, you may have a Lock on your Windows PC, but is that enough to keep hackers out from stealing your data? What about using your laptop on an open WIFI connection, surely there's no debating that hackers have the upper hand when the latter is the case. Likewise, just like you need a car alarm to keep out thieves and a home alarm to deter burglars, in the same manner you need a File Lock software to keep out hackers, insiders and government agencies from getting to personal your data.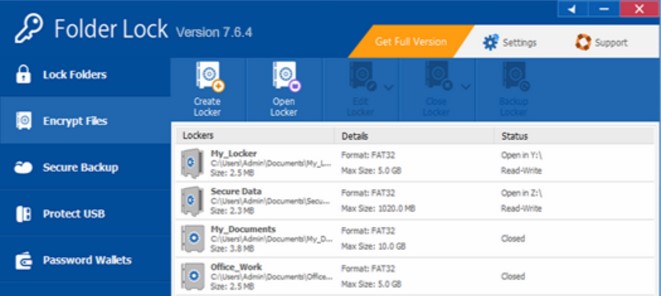 What's so special about File Locking software, what makes it special? This is a question that ponders everyone. File Locking software allows the user to encrypt files. The most effective ones, such as Folder Lock, uses AES-256-bit military grade encryption to apply file locking mechanism to safeguard your data against all types of threats. Encryption is the only sure fire way to ensure your data is never compromised.
So how does on applies file locking mechanism using Folder Lock? How steps are involved? The process is simple and straightforward. Folder Lock allows the user to generate self-executable lockers, upon creating a locker, the user is required to setup a password of their choice, you can also assign the locker with a unique name. Once the locker is setup, it automatically opens up a virtual drive in which all you have to do is drag and drop your data, and then you can simply close it.  You also have the open to upload your encrypted lockers to a dedicated cloud server, ensuring that you always have access to your confidential documents. A file locking software like folder lock can protect you against many threats, including ransomware, remote hacking and insider threats.