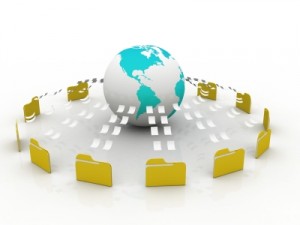 One of the greatest threats to the ever growing field of Information Technology is that of the security of your information, precisely the privacy of your most sensitive data. It has become quite a routine now that every once in a while we get the news of some organization's sensitive data ending up getting stolen, lost or accidentally falling in the wrong hands.
Many organizations have endured great losses in the kind of instances when secret information gets slipped out of their hands and goes directly into the hold of hackers or people who want to make illegal advantage out of it. Hence, it's always a good practice to implement file security in companies that deal with a great amount of data daily and go all-out for reducing their risks of data loss and accidental exposure of data to outsiders.
Some preliminary steps you should consider before implementing file security in your organization. These steps involve the strengthening of your office physical security. Later, you can deploy software level security by installing an effective file encryption software which is capable of securing your data by encrypting it.
Password protecting important document is another way of securing your corporate data. This is helpful for those who do not want to use encryption software, but prefer simple file locking instead. This can be achieved with the help of folder protect software.
Apart from that, you should always have a safe backup of all important files on media that is locked away in a safe off site.