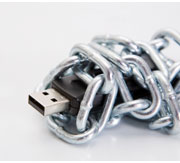 Everyone admits that a USB drive is the best choice for storing and transferring confidential data from one place to another. People use USB drives to store confidential information as well as for the purpose of storing personal stuff which may include music files, family photos, videos, letters and etc. Sometimes people need to transfer their data from one PC to another PC.
These small storage devices also come handy when you are travelling and are away from your home town.
For instance, businessmen often are required to travel to different cities and countries for the purpose of promoting their business, and need to carry business information with them. Since USB drives are small enough to carry easily while they have the capacity to store GBs of data, they have become the preferred choice for many businessmen.
Along with these benefits and advantages of USB drives, they are capable of causing a security risk incases of their loss or theft. They may result in privacy breach and data lost, particularly if they contain sensitive information like your financial records, business plans and bank statements.
Because of the extensive use of USB drives all around the globe, the security of data they contain becomes a critical issue for almost every entrepreneur. The basic reason behind this is the fact that USB drives are small enough to get stolen or lost easily. You may forget them wherever you take them like at airport, office working table, internet cafe or at your friend's home; and in that case your privacy definitely is at risk!
A recent study shows that the cost of privacy breaches and data loss due to lost, misplacement or theft has reached up to three million dollars. All these facts highlight the significance of using a protected portable storage device.
Now, when it comes to protecting your data, the most common thing that comes to our mind is password protection. Same approach goes with the USB Security. If you do not want to complicate yourself with knotty technical procedures, you can choose to simply password protect USB drive and all its data.
USB Secure , one of the most powerful USB locking software programs, creates a secure boundary around the data that you want to protect in your USB flash drive. So that whenever someone tries to gain access to your USB drive's data, it prompts for a correct password; the failure in the entry of which puts barricades between your data and the unauthorized intruder.
You can carry USB Secure on the same USB drive and run it without the need to install it on a host computer; and USB Secure can be used on any USB drive that turn a cheap and commonly available USB drive into a Secure USB drive.