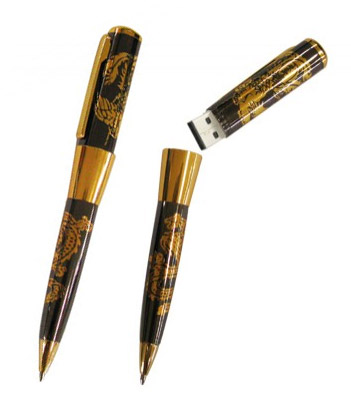 USB pen drives, sometimes referred to as a jump drive, are the removable storage devices like external devices which are used to carry and transfer data from one computer to another or from one place to another. Pen drive gets its name because of the fact that many of these drives are small enough to be fit into a pocket and holding quite a resemblance to a small pen or pencil in size and shape.
In the past, floppy disks have been used to store and transfer data from one place to another. Remember the days when you had to depend on floppy disks and CDs for storing and transferring data from one computer to another? How much nuisance could it have been losing a floppy disk if you just left it behind you somewhere? And the one of those disks too held some vital information in it? Would you have been thrown totally off the track? Well, our guess is: YES
Using a floppy disk was not only inconvenient but it was also limited to the PCs having a floppy disk or CD driver in it. What's more troublesome was the process of burning data into the CDs or copying all your files to your floppy disks and if you were to store large amount of data, you had to use multiple floppy disks.
Some of the Advantages of Using USB Pen Drive:
Here, I am going to list down some key advantages of using pen drives:
Pen drives or USB pen drives are dust-free so you don`t have to worry about cleaning them from time to time.

They are shock-free which means that they cannot be damaged after being shocked.

Pen drives or jump drives are smaller in size and weigh too less as compared to the other storage devices.

The speed of transferring data from your PC to pen drive is quite fast; therefore pen drives are the efficient choice to be used at work.

They come with huge storage capacity so that you can store a lot of files in them.

Pen drive is a good choice to keep a safe backup of your important files.

They are available in different shapes so that you can get what you desire for.

They are available at very affordable price.
Keep the Data in Your Pen Drive Secured from Theft or Lost.
No matter what you have saved in your pen or jump drive, you must protect it so that it won't be misused particularly if the data is of sensitive nature. For example; if you have saved your business data in your pen drive like source code, ongoing work project and passwords, you want to be sure that this information will not fall in wrong hands and will be protected from all the incidence of data lost and theft.
USB Secure is the solution of all your worries. It is an easy to use software that can quickly password protect your pen drives and all the data that it contains.
Get involved in learning more about The good, bad and ugly of USB flash drives