Data Storage: The Past, Present And The Future !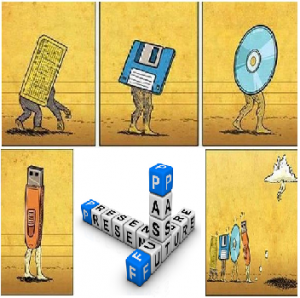 It is estimated that by 2016, users data storage needs will grow to 2.16 zettabytes around the world. Considering these facts, it is surprising that data storage technology has managed to keep up with our everyday storage needs.  According to statistics, storage devices such as Compact disks, hard drives, and solid state drives have been doubling in their capacity to store data by every year.
Today, you can find desktops equipped with hard-drives capable of storing nearly 4 terabytes of data, which is more than enough for any hardcore computer geek. Considering the pace at which data storage capacity is growing, it is estimated that by 2020, hard-drives capable of storing up to 60 terabytes will be available for the average consumer. There are many examples of how quickly the dynamics of data storage have changed — the following are some great examples of the changing dynamics of data storage capacities and changing technologies – which may surprise you!
Micro SD card: 128 MB to 128 GB in less than a decade:
To further explain the massive growth of data storage in practical terms, if you can recall that in 1995 – when the first micro SD card was available for consumers, it only had a maximum capacity of 128 megabytes. Fast forward to 2014, you can now purchase a micro SD card capable of storing up to 128 gigabytes of data which truly gives you the scope on the advancement of data storage technology.
Hard disks became more compact with more storage capabilities and speed:
Today, hard-drives are more compact than they were in 1956, capable of storing only 5 megabytes at maximum – this was the first time when hard-disks were invented – surprisingly, they also weighed a couple of hundred pounds. Today, a four terabyte hard-disk usually weight less than a pound – which is quite an amazing feat.
Corporate data storage devices:
Back in 1991, your average company server was only capable of storing 2 gigabytes of company data with a scanty 256 megabytes of RAM. Today, you can purchase a company server, capable of storing up to 2 petabytes of data with 128 gigabytes of RAM.
Changes in portable data storage devices:
If you were familiar with 1970's computer technology, you would know how 200 Megabytes disks looked liked (think of tire that weighs around 10 pounds). What's even more astounding was the fact that it transferred data at a rate of 50 KB per second – painfully slow by today's standards.  Today, a 512 gigabyte flash drive weights only a few ounces and can fit comfortably into your pockets.
Evolution of solid state drives:
1996 was when the solid state drive first became commercially available – at that time you could purchase an SSD with the capacity to hold a whopping 40 megabytes – a mere drop in the bucket by today's standard. Today, you can find a solid state drive capable of storing 960 gigabytes of data.
Word of caution:
Growing capacities and speed of data storage is not necessarily a good thing. In fact, with growing capacities come mounting concerns about theft of data. It's a natural phenomenon – the more data there is, the better the likelihood of that data being stolen – with the most vulnerable being external storage devices, as they are most prone to theft and loss. Users can ensure the security of their external data by protecting their storage devices which can secure USB drives through password-protection.