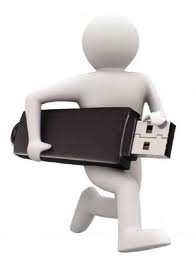 There was a time when we hardly had any mean to carry our important business documents with us while on the go, but then floppy disks emerged on the horizon giving the concept of portability which now has reached to a milestone. Now, we can literally carry gigabytes of data in our pockets without having to be loaded with huge piles and great chunks of paper data. Thanks to the advancements in the field of information technology that made it quite a possibility.
The introduction of USB drives has refurbished the whole idea of data portability that now almost everyone is carrying a flash drive which they use to store and carry information from one place to another.
USB flash drives have become more of a necessity than an option. These days, almost everyone whether it may be a businessman, a lawyer, a student or a home user is carrying a flash drive or a thumb drive.
Since the sizes of these storage devices are small enough that they can be carried in your pocket or in your hand bag, there are fairly prone to accidental loss or misplacement. For this reason, you should protect your USB drives and the data that they contain so that even if you lose them, you will be sure that the data remains inaccessible from unauthorized use.
Since, lost and stolen USB flash drives are the number one cause of privacy breaches, the best way to protect you from becoming a victim is to keep your USB drive secure either by using an encrypted flash drive or by using USB security software, which is an affordable solution. The finest plan of attack to secure USB drive is placing a password on your USB drive with the intention that every time somebody attempts to access your USB drive, it will ask for the password before giving access to anyone.
There are diverse safety procedures in the online market that let you protect your USB drives based on your own requirements and feasibility. You can find out many software which are designed to password protect USB drives while there is a software USB Secure which does not only let you password protect USB drive but all the other storage devices as well, such as pen drive, thumb drive, jump drive, memory stick and even external hard drive.
So, download USB security software in your USB secure, set and confirm a password and start keeping a secure USB drive while on the go!