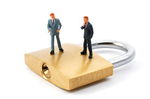 Using a USB security software and to password protect USB drive is supposed to be the standard security practice for almost every company expecting to minimize the chances of exploitation of their confidential data. Protecting USB drive with a password will eradicate the chances of exposure of confidential and proprietary data to unauthorized and illicit people.
Several companies and organizations which were exposed to a security breach spend lots of money to restore their confidential data and then to restore the public confidence which they have lost because trust factor is important in running any business successfully. What they don't realize is that they can protect themselves from privacy breaches if they password protect folders and files. They will never have to worry again for their data security.You can significantly reduce many security threats only for a small investment of time and money by password protecting USB drive which carries sensitive or confidential data. This is important because USB flash drives are small enough to be accidentally lost or stolen easily; and this will cost you fortune if the flash drive so lost or stolen was loaded with lots of sensitive information.
Password protected USB flash drive must have a strong authentication system to keep illegal access away from your sensitive data. Furthermore, password protection of USB drive must be independent from its host Operating System so that it can retain its integrity. You can find such type of USB security software which offers PC independent password locking protection such as USB Secure.
Moreover, attempts to access networks through USB flash drives are increasing day by day and there is no amount of security which can prevent such type of security breach. However, using a USB Block software can put your security department at ease and they will be well protected from such kind of privacy breach.
When you protect USB drive, you will put your mind at total peace from all the worries of security leaks and privacy breaches. You will not have to worry again about what is happening to your lost or stolen flash drive.