Comparison of Best Security Softwares: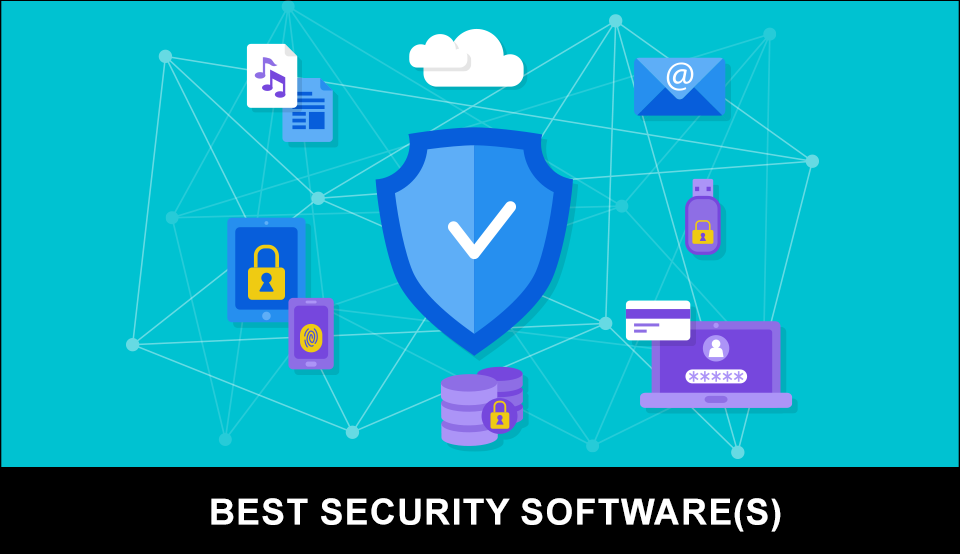 1 Folder Lock:
The boom of technology rushed in & along it brought some threats related to data protection and security. Hence, came Folder Lock as a relief for security-conscious users.
Below are some of the features that Folder Lock offers. Read on and identify how you may get a complete peace of mind knowing there exists a software that keeps you protected 24/7.
Folder Lock – Features:
Lock Folders:
The most basic feature of Folder Lock is that it lets you lock folders. But that's not it. Once you lock a folder, it gets hidden from its previous location and can only be accessed through the software's interface. This option lets you maintain the bulletproof security of your confidential folders where you may create and use numerous folder(s) without letting any other person know.
Encrypt your Files:
The best feature of Folder Lock is its ability to create Lockers. These aren't just ordinary lockers as these lockers are protected by AES 256-bit encryption (An encryption that hasn't been breached as of yet). Furthermore, you do not need to encrypt or decrypt files when accessing; simply copy them to lockers, and that's all! They're encrypted on-the-fly.
Protect USB:
The best part? You may also keep lockers in portable drives like USB drives, external drives, etc. Folder Lock is created in such a way that it lets you convert these lockers into executable files so that you're not bound to install Folder Lock every time you plan to access your protected files. Also, you may even burn them directly to CDs/DVDs and create password protected zips for email attachments.
Shred Files:
There comes a time where you do not require the existence of a file/folder, and you simply want to get rid of it. Such data might be of no use to you anymore, but it may damage you if it gets landed into the wrong hands. What we usually do is we consider the simple deleting process as the only option to get rid of file/folders which is not sufficient. When we delete a file, it gets removed from being used, but it exists in the records and can be recovered later. Therefore, to completely get rid of your files/folders that you no longer need, you need to shred them once and for all as once shredded, your data is irrecoverable.
Password Wallets:
Creating digital wallets for protecting confidential information including ATM pin, banking details, credit card details, etc. is a reliable yet convenient option. Furthermore, you may create as many Wallets as you like without any issue as these Wallets are encrypted when saved.
Secure Backup:
Folder Lock provides two-way encryption & backup method. This means that you may create your encrypted Lockers online. The best part is that if you lose your PC or you lose your data, then you may quickly recover it back from your online account. This backup option is quite safe, convenient and reliable.
Here is 'TopTenReviews.com' List of Best Security Softwares 2018:  http://www.toptenreviews.com/software/security/best-encryption-software/
2 VeraCrypt:
VeraCrypt is an another security software which is completely free in the basic version. Some of its features are listed below:
Features:
Effective Encryption:
VeraCrypt provides encryption to provide brute force protection from the prying eyes. If you're in possession of confidential data, then you may use this option. Also, Veracrpyt prevents all sorts of attacks/threats and restricts data leaks.
Interface:
VeraCrypt has an adequate interface that proves to be quick, easy and reliable.
Encrypted Password:
VeryaCrypt is a user-friendly security software that lets you protect your data with enterprise-grade encryption. It has a simple interface & lets you add encrypted passwords to your partitions and data. However, you first need to give this software a bit details about your data, for example, specified hashing algorithms, volume size, and location.
3 Axcrypt:
AxCrypt is an encryption software specifically designed for individual users and small teams. It works well with Windows, MacOS, and gives a free trial of 30 days.
Features:
Solid Encryption for Personal Use:
AxCrypt provides solid encryption for small ventures, individuals, and teams. It protects your data using either 128-bit or 256-bit AES encryption. It further lets you use its cloud storage feature from where you may easily recover your data from cloud accounts like Dropbox and Google Drive.
Mobile-Oriented:
AxCrypt specialty revolves around the fact that it is mostly mobile oriented.
Passport Management:
Furthermore, AxCrypt also offers passport management where you may access your encrypted files through a smartphone app.
Languages:
AxCrypt is compatible to multiple languages like French, Dutch, German, Swedish, Spanish, Portuguese, Russian, Italian, Korean, etc.
4 CertainSafe:
CertainSafe is another security software that lets you encrypt and password protect your data along with a 30 day trial period.
Features:
Effective Encryption:
CertainSafe lets you encrypt your confidential data and attempts to mitigate all aspects of complaint and risk with industry regulations.
Digital Safety Deposit Box:
It protects you from internal & external exploitation and secure data in transit as well as data at rest. Your files are exchanged for digital tokens and are further distributed offsite across a range of servers which are safe also known as private storage to extract any information.
5 CryptoExpert 8:
CryptoExpert is a software which provides secure data vaults for your confidential information making sure there are no potential threats. It offers a free 30-day trial and does not offer cloud based-service.
Features:
Powerful Encryption:
CryptoExpert provides powerful encryption than its competitors and has boasting on-the-fly-encryption. Its system is well equipped to back up a range of multiple files such as certificates, Word, Excel, and other multimedia files.
Secure Vaults:
This software lets you create secure vaults of unlimited size and uses Cast, Blowfish and AES-256 Encryption Algorithms. Furthermore, it works fine of 32-bit and 64-bit versions of Windows 7, 8, and 10.
Recommendation:
If compared, Folder Lock has more to offer than its competitors and has quite a user-friendly interface. To be precise, Folder Lock has no limitations and provides genuine data protection features like no other. Folder Lock password protects folders, files, drives, etc. It encrypts your confidential files, shreds files, and even cleans history. It is compatible with 32-bit and 64-bit and works on Windows 10, 8, 7, Vista and XP.