Mobile devices have become a vital part of our daily lives as technology advances. These pocket-sized gadgets, from smartphones to tablets, hold a treasure trove of personal and sensitive information. Securing our data on mobile devices becomes paramount as we rely on them for communication, banking, and social interactions. This comprehensive guide explores the various security measures used to safeguard data on these devices, ensuring our digital assets remain protected from potential threats.
How To Secure Data On Mobile Devices?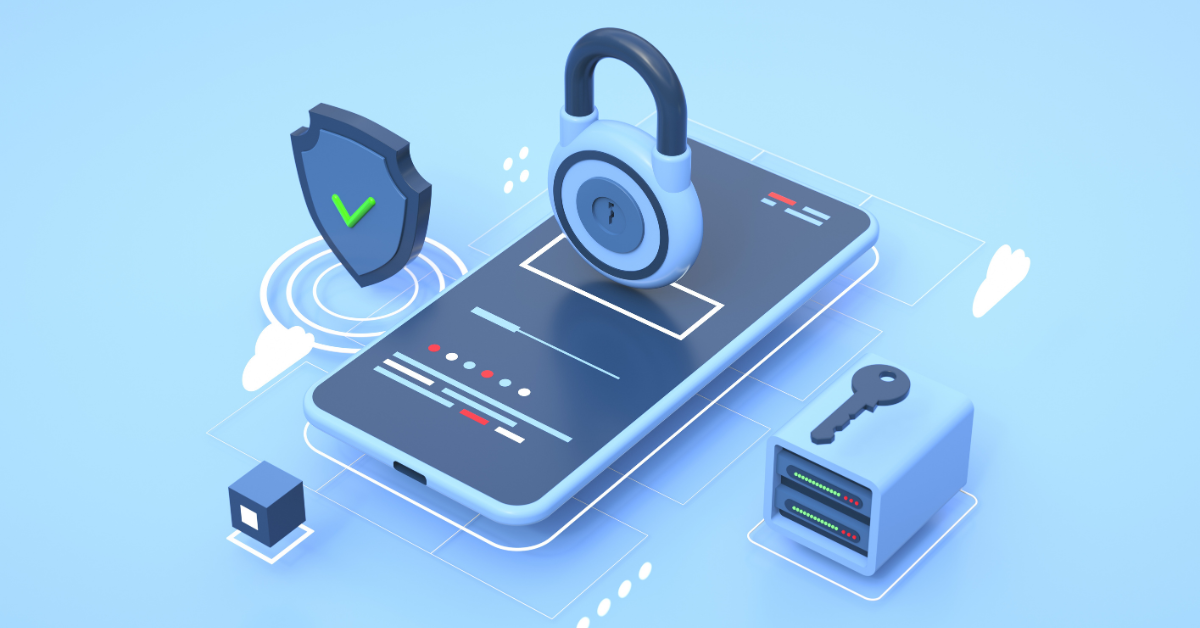 Passcodes and Biometric Authentication
The first line of defense for securing data on mobile devices is implementing strong passcodes or biometric verification, such as fingerprint or facial recognition. These measures prevent unauthorized access to the device and ensure that only the rightful owner can unlock it.
Encryption: Shielding Data from Prying Eyes
Encryption plays a critical role in securing data on mobile devices. By encrypting data at rest and in transit, information stored on the device becomes indecipherable to unauthorized users, adding an extra layer of protection against data breaches.
Remote Wipe and Locking
In case of a lost or stolen device, remote wipe, and locking features allow users to erase all data and lock the device remotely, preventing unauthorized access to sensitive information.
Secure Mobile Apps
Using secure mobile applications from trusted sources ensures that the apps are free from malicious code or vulnerabilities that may compromise data security.
Mobile Device Management (MDM) Solutions
MDM solutions enable centralized control and monitoring of mobile devices within an organization, allowing administrators to enforce security policies, remotely manage devices, and protect sensitive data.
Virtual Private Network (VPN)
Using a VPN on mobile devices adds an extra layer of security by encrypting internet traffic and ensuring data privacy while accessing public networks.
Regular Software Updates
Regularly updating the device's operating system and apps is crucial, as updates often include security patches that fix vulnerabilities and strengthen data protection.
App Permissions
Being vigilant about app permissions is essential. Granting unnecessary permissions to apps may expose sensitive data to potential misuse.
Two-Factor Authentication (2FA)
Enabling two-factor authentication for apps and services adds a security layer by requiring a secondary verification method, such as a one-time code, when accessing accounts.
Secure Backup Solutions
Backing data to secure cloud storage ensures that valuable information is retrievable, even if the mobile device is lost, damaged, or stolen.
Additional Security Measures for Securing Data on Mobile Devices:
Secure Socket Layer (SSL) Certificates: Ensure that websites and online services accessed through mobile devices use SSL certificates. SSL establishes a secure encrypted connection between the device and the server, protecting sensitive data during communication.
Biometric Encryption: Some modern devices offer biometric encryption, where the biometric data is used to generate encryption keys. This strengthens data protection as the decryption key is tied to the user's unique biometric characteristics.
Containerization: Containerization creates isolated environments on the device for work-related data, keeping it separate from personal information. This prevents data leaks and enhances security in Bring Your Device (BYOD) scenarios.
Jailbreak/Root Detection: Implement jailbreak/root detection mechanisms to identify if a mobile device has been tampered with or compromised. Devices with altered firmware are more susceptible to security breaches.
Trusted Execution Environment (TEE): TEE provides a secure, isolated area within the device's processor to handle sensitive operations like biometric authentication or cryptographic processes, protecting data from potential attacks.
Secure Bootchain: A secure boot chain ensures that only authorized and digitally signed software components can run during the device's startup process, preventing unauthorized or malicious code execution.
Data Loss Prevention (DLP): DLP solutions can monitor and prevent the unauthorized transfer of sensitive data from the device to external sources, adding an extra layer of protection against data leakage.
Device Encryption Enforcement: In corporate environments, enforce device encryption policies to ensure that all company-owned mobile devices have encryption enabled.
App Vetting and Testing: Conduct thorough security testing and vetting of mobile apps before deploying them within an organization to identify and mitigate potential security risks.
User Education and Awareness: Educate users about mobile security best practices, potential threats, and how to identify and report suspicious activities, fostering a security-conscious culture.
By combining these additional security measures with the ones already discussed, individuals and organizations can create a robust defense against mobile data breaches and maintain the confidentiality and integrity of sensitive information on mobile devices.
FAQs
Are passcodes or biometric authentication more secure for mobile devices?
Both passcodes and biometric authentication offer secure options, but biometric methods like fingerprint or facial recognition tend to provide stronger protection.
How does encryption work on mobile devices?
Encryption converts data into an unreadable format using cryptographic algorithms, ensuring that only authorized users with the decryption key can access the information.
What should I do if my mobile device is lost or stolen?
If your device is lost or stolen, use remote wipe and locking features to erase data and prevent unauthorized access.
Why is it essential to download apps from trusted sources?
Downloading apps from trusted sources reduces the risk of malware or vulnerabilities that could compromise data security and privacy.
How does Mobile Device Management (MDM) enhance security for organizations?
MDM solutions allow centralized control and monitoring of mobile devices, enabling administrators to enforce security policies and protect sensitive data.
Conclusion
Securing data on mobile devices is a critical aspect of our digital lives. We can protect our sensitive information from potential threats by employing a combination of passcodes, biometric authentication, encryption, and utilizing secure mobile apps. Additionally, staying vigilant about app permissions, enabling two-factor authentication, and regularly updating software further strengthens data security.
We must understand and implement these security measures to safeguard our digital assets as we embrace the mobile era. By doing so, we can confidently enjoy the convenience and benefits of mobile devices while maintaining data privacy and protection