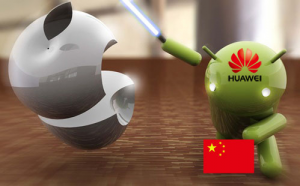 An interesting competition is going on between China mobile companies (includes white label mobile phones and Chinese branded phone) and the giant of Smartphone market Apple. White label phones are those which are manufactured by the same manufacturer and rebranded under different companies' banner. White label phones captured almost 42 percent of the china cellular phone market, more than 180 million Smartphones were sold but in recent past two years, the sale of the phone has been declined by almost 30 to 35 percent. Whereas, Apple is eying that market to occupy, the cause of failure of Apple in China's local market is the high prices of the phones.
China's local manufactured Smartphones are cheap, so that the middle class of the country can easily afford them. A white labeled phone cost $50 to $60, on the other hand, Apple's iPhone costs about $200 per handset. Big names of Smartphones manufacturers Apple and Samsung kept themselves away from this market because of the low profit margin. But, now these companies have estimated the size of the market, it is probably the biggest market of Smartphones. However, Samsung has produced Smartphone series in this market like REX series; Samsung had the highest sale of Smartphones in this market in 2012. Apple is rigid at its place; Apple does not want to compromise neither their quality nor their price.Where Apple is trying hard to capture China's mobile market, Huawei (a China brand) trying to gain a foothold in the international market, especially US market. Huawei had expertise in making routers and switches for national communication system. First Huawei made an effort to grasp hardware market of the USA and make companies like AT&G its client. But, the China based company failed to do so. The US is concerned regarding the security, US thinks that if Huawei gets an access to their market, it will also make a smooth path for e-criminals of China.
Huawei is also a manufacturer of Smartphones, and they sell their phones in the USA, where they have a little command on the market. The CEO of Huawei claims that they are producing quality phones, people are trusting them more and more with the lapse of time. Huawei has earned $35 billion and they have shipped more than 10 million Smartphones to US market this year. Only Apple and Samsung is leading from Huawei in term of the number of Smartphones available in the market. Huawei has produced the slimmest Smartphone of the world as well has world's first water resistant Smartphone. Huawei is relying heavily on their innovation and cost efficiency for the success in the US market. While, Apple's weapons are creativity and that Shining apple at the back of the phone which is considered to be a status symbol. Huawei has high spirits, they claim that people believed that Apple and Samsung are the two best producers of Smartphones, but the day is not much fat when people will believe that Huawei is one of the best producers of Smartphones.
Powered by NewSoftwares.net