In a world full of digital technology – in other words, a world completely dependent on computer technology – will only have one threat. Threats such as terrorism, gun violence, hate crime, street crime and others will be a thing of the past, the only threat mankind will face will be from digital espionage. In other words, it will be the hackers who will be the greatest threat to the world's security and economy. When it comes to hackers, no entity is safe. Be it the stock market, the banking system or the military, no one is safe from hackers – as time and time again, hackers have demonstrated their capabilities by launching large scale attacks – yet government organizations were felt venerable and defenseless. This, in fact, is a very scary trend to say the least. This means that our entire financial system and social system could be hijacked by a bunch of thugs who cannot be caught. Recently, hackers have demonstrated that they can hack smartphones using digital 3G and 4G cellular networks – this, indeed has now data security analysts worried.
Moving on, nearly everyone owns a smartphone these days, you can purchase one for as little as 50 dollars or you can purchase one that costs upwards of 900 dollars, it all depends on the features and specs you want in a smartphone. However, regardless of their price, these devices can pretty much do anything you want them to do, and as technology keeps progressing, smartphones keeping getting smarter – this also means that they become more complex. With smartphones, you can surf the internet whenever you want, check your email, conduct a video chat, save your documents, videos, images and other data with great convenience. However, smartphones have become great spy tools for hackers and government agencies. In fact, as you read this article, there may be someone watching you using your smartphone camera or laptop camera.
How to Protect Privacy on Smartphone: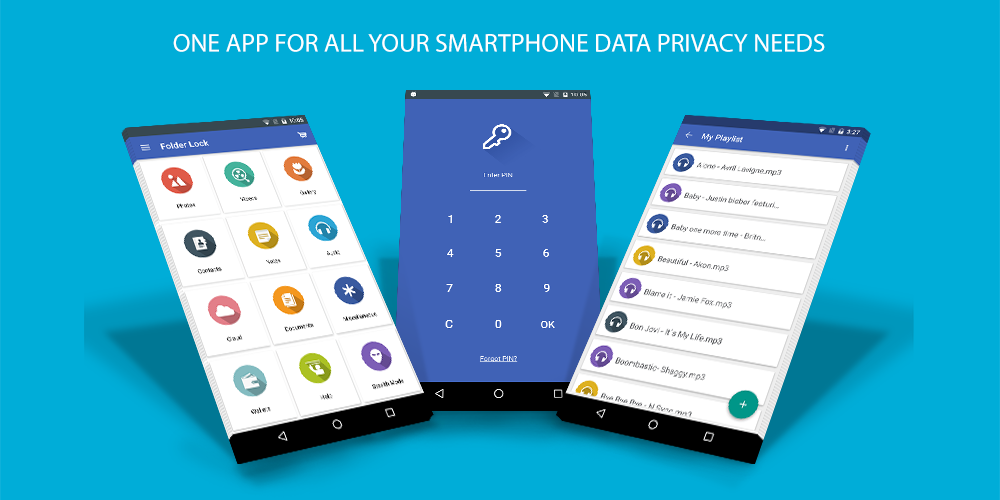 At this point, you may be wondering what's the most secure smartphone I can buy? While this is a logical question, it is the wrong question to ask. The right question to ask would be what is the best app to safeguard personal data? Well, while there are thousands of apps that claim to be the best in smartphone privacy, the bestselling and the one with the best reputation is Folder Lock. Folder lock desktop application has been around since 2002, but just in the past 5 years, Folder Lock released an Android and iPhone version. Folder Lock is not just a smartphone app, it's a complete smartphone privacy solution. With Folder Lock, user have the liberty to save sensitive documents, files, folders, images, videos, wallets, credit cards, debit cards and social security number with guaranteed security. Even if the user ends up having their smartphone stolen or their smartphone is misplaced, Folder Lock will prevent anyone from accessing this information. What's more, Folder Lock also comes with a cloud backup solution that allows the user to retrieve their data from their personal cloud account.
Best Ways To Ensure Privacy On Phone
1. Enable a passcode or biometric authentication on your phone.
2. Use a secure messaging app such as Signal or WhatsApp.
3. Use a virtual private network (VPN) to encrypt your data while browsing the internet.
4. Disable location services and limit app permissions.
5. Avoid using public Wi-Fi networks.
6. Enable two-factor authentication on your accounts. (www.napavalley.com)
7. Regularly update your phone's software and apps.
Reasons To Turn Off Privacy On Android
Yes, Android is a mobile operating system developed by Google. It is based on a modified version of the Linux kernel and other open source software, and is designed primarily for touchscreen mobile devices such as smartphones and tablets.
Ways Users Make Their Smartphone Secure
1. Use a secure lock screen.
2. Install a reliable antivirus and antimalware software.
3. Enable encryption on your device.
4. Carefully review and manage app permissions.
5. Use a VPN when connecting to the internet.