Facebook has managed to increase the number of monthly active users on its Messenger platform from 300m to 700m in just one year. But that doesn't stop the social media giant from making it even more interesting and exciting. As per reports, Facebook is working to improve the app even further by introducing new features and tools like 'Photo Magic' and 'Ephemeral messages'.
Back in 2013, Facebook made a bid to buy Snapchat for around $3 billion, which was declined. Facebook then introduced Slingshot and Poke, which were considered as rivals to Snapchat but both apps failed while Snapchat continued to flourish. However, Facebook looks to be in no mood of giving up. That is why it has plans for introducing a new feature which is dubbed by many as the 'Snapchat killer'.
The new feature allows people to send self-deleting messages via Messenger. The user only needs to tap the hourglass icon within the app, and the message would self implode after one hour. Once the feature has been turned on, it would only affect the current conversation. The feature can also be disabled by tapping the hourglass once again.
"Disappearing messages gives people another fun option to choose from when they communicate on Messenger," Facebook said in a statement to CNET. "We look forward to hearing people's feedback as they give it a try."
The feature is a bit different then the one on Snapchat which lasts only for a couple of seconds. However, like in Snapchat, the sender shall be notified if the receiver takes a screenshot of the message. The feature has already proven its popularity, especially among teenagers, as it provides users with a safe and private environment
The feature is currently being tested in France, and would eventually be made available to other countries. What's left for us to see is whether this feature would help Facebook in destroying its rival, Snapchat, or would it prove to be another failure on the list.
What Is Ephemeral Mode In Messenger?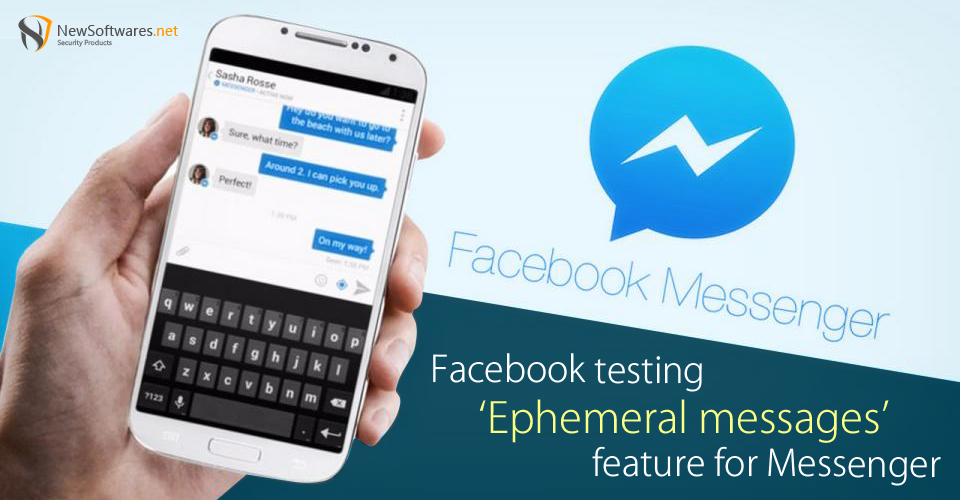 Ephemeral mode in Messenger is a feature that allows you to send messages that will automatically disappear after a certain amount of time. This feature is designed to help keep conversations private and secure, as messages sent in ephemeral mode will not be stored on any of your devices or in the cloud.
Vanishing Messages On Messenger
Vanishing messages on Messenger can be used to send messages that will self-destruct after a certain amount of time.
Enable Ephemeral Mode
To enable ephemeral mode on Messenger, open a conversation with the person you want to send the message to and tap the clock icon in the top right corner. Select the length of time you want the message to be visible for, and then type and send your message. The message will be visible for the set amount of time and then disappear.
Does Vanish Mode Delete Old Messages On Both Sides?
No, vanish mode will only delete the messages that are sent after the mode is enabled. Old messages that were sent before vanish mode was enabled will remain visible to both sides.
How To Tell If Someone Is Having Secret Conversation On Messenger?
Unfortunately, there is no way to tell if someone is having a secret conversation on Messenger. Secret conversations are encrypted and hidden from view, so there is no way to tell if someone is having a secret conversation or not.
Recover Permanently Deleted Messages On Messenger 2023
Unfortunately, it is not possible to recover permanently deleted messages on Messenger 2023. Once a message is deleted, it is gone forever and cannot be recovered.
Hide Messages On Messenger Without Deleting Them
You can hide messages on Messenger without deleting them by using the Archive feature. To archive a message, simply tap and hold on the message and select the Archive option. This will hide the message from view without deleting it.
What Are Ephemeral Devices?
Ephemeral devices are devices that are designed to be used for a short period of time and then discarded. These devices are designed to be used once and then discarded, so that no trace of the user's activity is left behind. Examples of ephemeral devices include disposable phones, single-use credit cards, and disposable cameras.
What Are Ephemeral Sessions?
Ephemeral sessions are temporary online sessions that are used to access a website or application. These sessions are designed to be used once and then discarded, so that no trace of the user's activity is left behind. Ephemeral sessions are commonly used to protect user data and privacy, as they provide a secure way to access a website or application without leaving any trace of the user's activity.
Secret Feature In Messenger
The secret feature in Messenger is the ability to send encrypted messages. This feature allows users to send private messages that are only visible to the sender and receiver. Messages are encrypted using end-to-end encryption, meaning that only the sender and receiver can read the messages. This feature is designed to ensure that conversations remain private and secure.
How do I see disappearing messages on Messenger?
To view disappearing messages on Messenger, open the conversation thread and tap on the profile icon of the person you are talking to. Select the "Disappearing Messages" option, and you will be able to view any messages that have been set to disappear after a certain amount of time.