Yet again iPhone lovers have something to talk about with the launch of iPhone 8! The launch of these devices has been a regular boosting trend which includes little or major alterations in specifications, size, shape and more! We've seen that after every launch, there comes another similar launch with represented with an 'S'.
However, things don't look the same in the current scenario. Apple has decided to skip the 'S' category this time and go directly towards iPhone 8 this edition comes with great expectations, better performance and what not!
The old flagship lines are being replaced with new and improved visions and some of the longest traditions are being sent back to the drawing board with the introduction of new super wide aspect ratio screens.
As mentioned above, the 'S' is no more and we're about to be blown away with the most strongest, daring and rarest kind of iPhones ever! Tech giant like apple is also following a similar path of ignoring the common trends and instead creating phones to the beat of its own drum is not really immune to this shift.
The iPhone 8 must be feeling as the second best child as iPhone X seems the most favorite child in the family as it has way too many specs and features to look out for.
The phone is now readily available for purchase (online and in-store) and this is the phone for those who're thinking of getting a new Phone but are unable to digest the thought of spending a giant amount on the flagship device!
In simple words, the iPhone 8 is basically the same as iPhone 7 having a slight bit of an upgrade in the hardware on the outside making it affordable upgrade for those who've jumped directly from iPhone 6S.
These upgrades are quite minimal as compared to the latest iPhone X but there is still enough to name it something 'new and improved' or simply better than before!
iPhone 8 Features: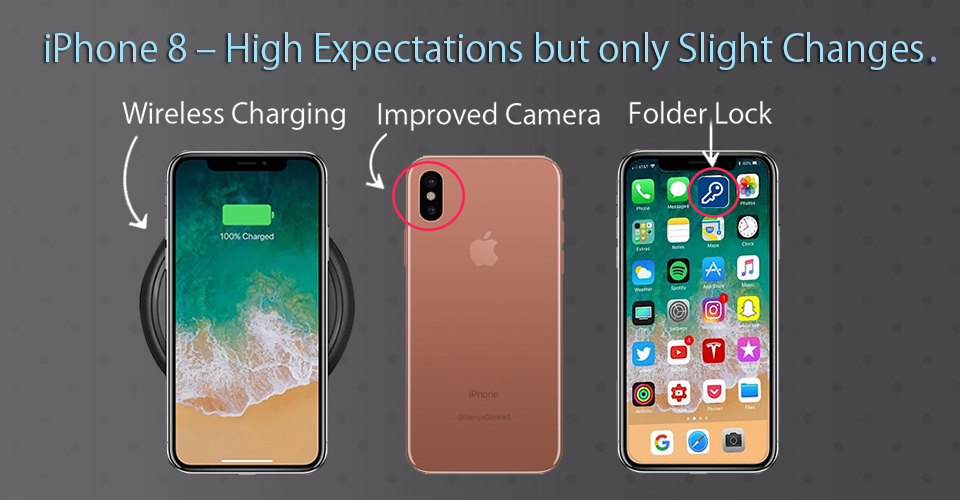 Faster innards:
iPhone 8's main feature is the new A11 bionic chip which is rumored to have been produced using a new 10nm process.
Having said that, that won't be making much of a difference because we've already seen iPhones with enhanced power but regardless of everything, such an upgrade will surely keep running things smoother for longer.
Wireless charging:
iPhone 8 is quite similar to iPhone 7 (which is not what the users were expecting) but at least, the new iPhone does have a glass back on this phone.
This simply means that you can charge this device wirelessly with the new ability coming to all the new devices of iPhone launched at 2017 event. The technology it uses is the Qi standard, which looks to be a giant step in the future of charging phones.
Improved Camera:
In simple words, a slight boost. The same single sensor that was placed on iPhone 7 last year that is a bit disappointing but still gives quality pictures. However, the users hoped for two sensors this year but…. something is really better than nothing.
Improved Specs and Features – Security Still in Question!
Having said that its hard to say anything about the security of the newly launched device. Many iPhone users have claimed of having disruptions in their data (stored in their iPhone devices). So far, it sounds a bit too early to say that iPhone 8 is far from all the threats and risks.
But in any case if there exist a situation where you're addicted to this phone or have already bought it and looking for ways to seek protection of your data… then we could recommend you to use a security software known as 'Folder Lock'.
This software is pretty much perfectly compatible to the newly launched apple's device and is created exactly for such purpose where major attention is giving on specs and style rather than the inner-level security. The thing is that there are some pictures that are worth sharing while there are others which shouldn't be shared. Hence, these images should be protected with Folder Lock's Photo Locking feature.
In short, Folder Lock simply lets you protect your personal photos, videos, audios, etc. or anything that is dear to you!