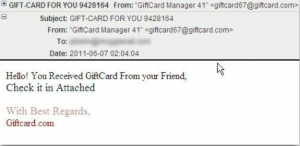 'You have received a Gift Card from your friend', sounds alluring, isn't it?
For someone who loves to receive gifts and greeting cards from his/her friends, a surprising gift card materializing from the thin air is, with no doubt, an excitingly enticing discovery, which is exactly what these internet bad guys have in their conniving minds too.
Starting from the news of a recent malware attack from scary cybercriminals, we'll take you to the immediate remedy available to curb the chances of a successful spam attempt.
Email users have reported a recent malware attack spammed out faking a gift card from a friend. Hitting all around the world, infecting various inboxes with a Trojan horse attached as .PIF file in the email, this malware attack has been cleverly crafted to infect unprotected Windows computers by infusing the Trojan Horse into the system.
Here are the details and the face of the email that email users have been receiving.Subject: GIFT-CARD FOR YOU [number]Attached file: gift-card.pifMessage body:
Hello! You Received GiftCard From your Friend,
Check it in Attached
With Best Regards,
Giftcard.com
It has also been reported that another version of the similar attack has been widespread as well. The only difference in the other version is of wording and typographical changes.
Have a look!
Subject: GIFT-CARD From Your Friend [number]
Attached file: gift-card.pif
Message body:
Hi! You Received GiftCard From your Friend,
Check it in Attached
With Best Wishes,
giftCard.com
For someone who is not technically aware enough to sniff something fishy in the bottom, this email may appear like a normal email informing the user that he has been gifted with a greeting card, or stuff on the same line. Even if you are a proactive internet user and are familiar with attacks like these, the .PIF extension file will get you completely hoodwinked. Generally, in malware attacks of the same kind, the Trojan horse is enveloped in a .exe file or the exe file of the malicious software is disguised as a word file.
Giving this malware attack entirely a new yet more deceiving form, these bad guys have used a .PIF extension file instead of the conventional one. For now, what we advise you to do is to hold the URGE to click on that attached file, no matter how enticing it looks to you.
DON'T CLICK IT.
If you can't give them the taste of their own medicine, you can at least put a full stop to their malicious activities. That's right. With some vigilance on your part, followed by few of our tips and software programs, you can strengthen your defense system in a most reliable way ever.
Stay with us and find more about keeping your system secure and safe.