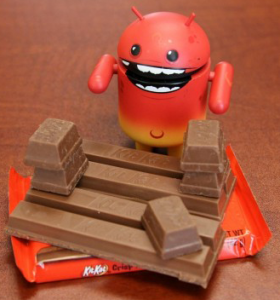 So, finally, the wait is over. Google has introduced their latest Android version. And guess what, they have proved all the rumors regarding the name and the version wrong. They kept their tradition of naming the Android version after dessert, but, no one thought of this name. The latest android version 4.4 (not 5.0) is named after the famous delicious, mouth watering chocolate KitKat. Yes, you got it right; the latest version of android is called 'Android KitKat 4.4'. There were strong rumors from the insiders of Google that the new edition of their OS would be called Key Lime Pie. However, the reason behind the change of name is probably because, not many people have tasted Key lime pie.
It is the practice of Google to put the mascots of Android versions on the display. Google has all the statues of previous Android version standing tall. The statues include Android Cupcake (1.5), Donut (1.6), Eclair (2.0), Froyo (2.2), Gingerbread (2.3), Honeycomb (3.0), Ice Cream Sandwich (4.0), and Jelly Bean (4.1-4.3) and now the tempting Android robot statue made with the famous KitKat chocolate is on the display. Google has not given the versions with any uniformity, which is why, there were rumors that the latest version would be 5.0, but, it turned out as 4.4, and the possibility is still alive that the newer version may be 5.0.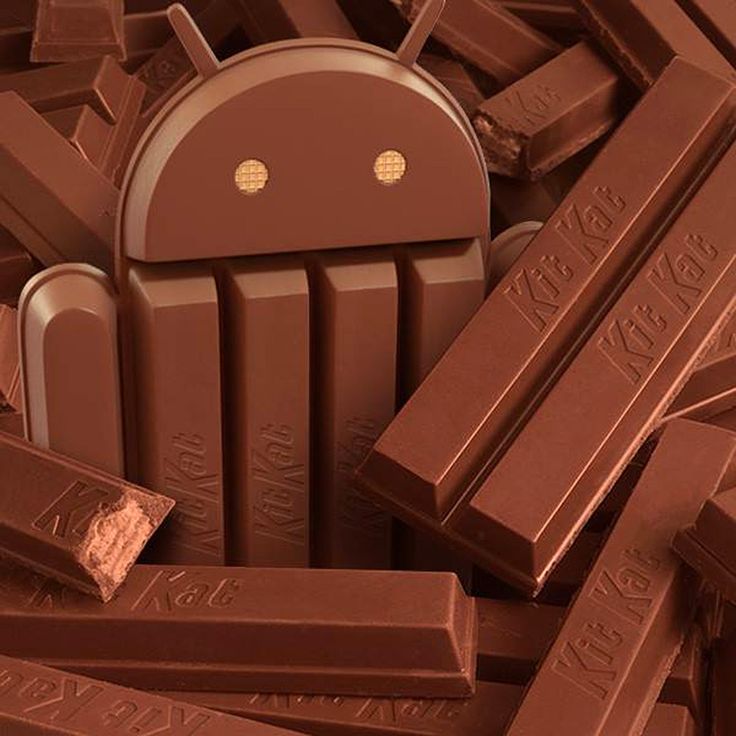 KitKat is the registered trademark name of a delicious wafer chocolate on Nestle and licensed by Hershey in the USA. But, there is no problem of trademark, as Google and Nestle has already signed a contract on the subject of this issue. There is news that the contract signed between Google and Nestle has nothing to do with money, it is probably because both the companies will benefit equally. For the sake of promotion, these companies are conducting contests through which some lucky Android users will be able to win Google Nexus 7 or Google Play credit. But, if someone gets extremely fortunate, he/she may be able to have a delicious bite of no ordinary KitKat, but, the KitKat of the shape of android robot. Now that is something special!
Now, the question is that, how sweet would be the latest Android KitKat 4.4 version would be? Google has clearly said that their goal with Android KitKat to make amazing Android experience available for everybody. Google has not announced any of the features of Android KitKat officially. But, what features would make this latest operating system of Google accepted by everyone as Nestle's KitKat is accepted? Some grapevine has been circulating in the market that the latest version of Google operating system might be operative on other gadgets such as smart watches, gaming consoles and etc. Well, for the answer for following question, we might have to wait for some time to get some clues from Google.
Introduction To Android 4.4 Kitkat
Android 4.4 KitKat is an operating system developed by Google for use on mobile devices. It was first released in 2013 and is the successor to Android 4.3 Jelly Bean. It features a redesigned user interface, improved performance, and support for new features such as printing, NFC and cloud storage. It also includes a number of new features such as a new camera app, immersive mode, and a new version of Google Now.
Android 5.0 Name
Android 5.0 is called Lollipop.
Why Is It Called Kit Kat
The name "KitKat" is derived from a popular chocolate bar. Google chose the name to evoke a sense of fun and whimsy, as well as to reflect the idea of a treat that can be enjoyed any time.
Country Owns Kit Kat
Kit Kat is owned by the Nestlé Corporation, which is headquartered in Switzerland.
Is Android 9 Called Pie?
Yes, Android 9 is called Pie.
Android 7.0 Name
Android 7.0 is called Nougat.
What Is Android 2.3 Called?
Android 2.3 is called Gingerbread.
Does Google Own Kitkat?
No, Google does not own KitKat. KitKat is owned by the Nestlé Corporation.
Powered by NewSoftwares.net