Today's flagship smartphones come with an awesome lot of features that make your life interesting and exciting. But you can always add more excitement to the mix with a list of smartphone accessories that make them even smarter and more powerful. So we've put together a list of the 5 best accessories for any smartphone.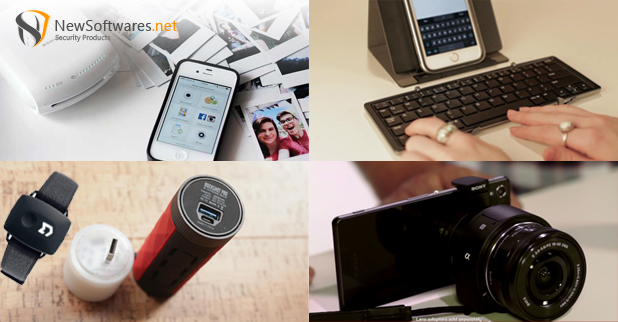 Outdoor Tech Buckshot Pro
Buckshot Pro is a versatile wireless portable speaker with a whole lot of features which make it an accessory worth spending money on. Its design allows you to connect it with your bike. It is a perfect outdoor speaker, with a battery life of about 10 hours. It also has a built in flashlight which may be used in critical situations. And you can also use it to charge your phone. All in all, a perfect outdoor accessory.
Jorno Bluetooth Keyboard
Jorno is a foldable Bluetooth keyboard that can turn a variety of compatible mobile devices into a pocket-size laptop. Folded up, it measures just about the size of a deck of cards, and weighs just over half a pound.It comes with a detachable cradle to position your smartphone in either portrait or landscape mode. It has a rechargeable lithium ion battery that supposedly supplies up to a month of wireless productivity per charge, based on normal usage. It's the perfect accessory to have if you want to write a word document on your phone.
Sony QX30 Attachable Lens Smartphone Camera
QX30 is an entire camera  – minus a screen – packed in a cylindrical body. The camera wirelessly connects to your Android or iOS device via Wi-Fi so you can use your phone's screen to click and review images and access the camera's settings. You can clip the camera onto your phone to make it feel more like you're shooting with a regular camera. It's the perfect accessory to have if you like to click images of our phone, but aren't satisfied with its camera.
Fujifilm Instax Share SP-1 printer
Even in the age of digital photos, there's something about having prints instead of staring at a screen, and that's what makes Fujifilm's little portable printer so nice. It's portable, lightweight and very easy to operate and use. It measures 4 X 1.7 X 4.5. There are no ink tanks or stacks of blank photo paper needed. And it can be connected with any smartphone device, whether it be iOS or Android, with apps allowing fun editing.
CUFF Carin Smart Shredded Leather Bracelet
CUFF has produced a bracelet for women, which is not only cool and stylish, but has other features which make it so great. It provides the wearer with notifications, as well as a level of personal protection. It has the ability to send alerts in case if you are in trouble. It can send an alert to your friends and family in case you want anyone's help. It would also provide live streaming audio option of what is happening in the scene during an emergency in the near future.