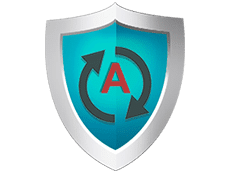 Automatic Protection
Folder Protect activates the protection after a certain period of time. If you have left your PC idle for a certain period of time, the protection is automatically activated. You can set the time period that is suitable to you and have a complete peace of mind knowing Folder Protect has got your back.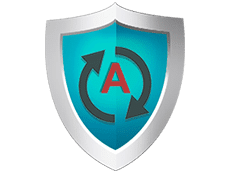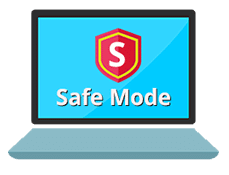 Safe Mode Protection
One way or the other, the prying eyes make numerous attempts to access your private files. One way of doing that is through the safe mode. Again, Folder Protect stays one step ahead by letting you use this feature. Even if someone boots your PC, turning ON this feature will restrict them there and then.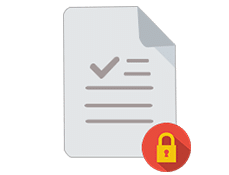 Accessibility
You can protect your executable in two ways. The files that you protect using Folder Protect can be further protected with the feature of 'Deny Access' and 'Prompt Password'. The deny access feature will make the executable inaccessible and can only be accessed until this feature is deactivated. In the same way, you can use the 'prompt password feature' to access the particular executable.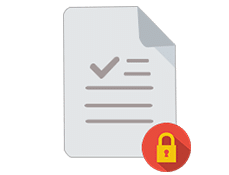 Features

Lock & hide files
Lock & Hide feature prevents access to your most important data with password-protection.

Prevent Deletion
Delete prevention feature eliminates the possibility of accidental or deliberate file deletion.

Prevent Modification
Prevents & restricts unauthorized users from altering or tampering with write-protected files.

Compatibility
Works on all versions of Windows, for example Windows 10 / 8 / 7 / Vista / XP

Works in Safe Mode
Windows Kernel-level protection ensures that your folders remain secure even in safe-mode.
Reliability
Patent pending protection methods ensures your data will remain secure under all circumstances.
Awards & Accolades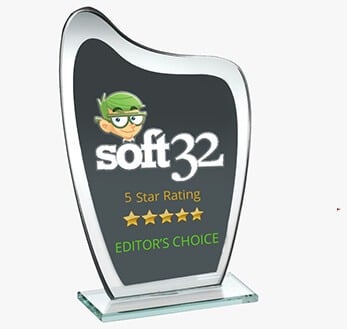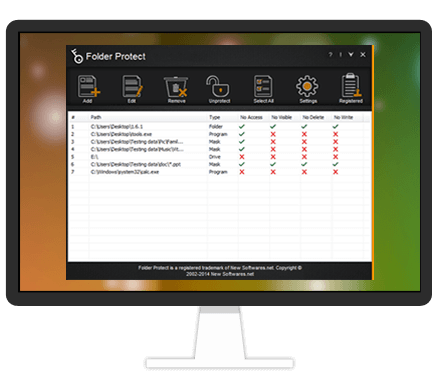 Folder Protect
(Additional Information)
Overall rating:

Current version:

2.0.4

Updated:

08 November 2017

Category:

Security & Privacy

Operating System:

Windows 10, 8, 7, XP

Size:

4 MB

Price:

Free (Trial) / $39

Publisher:

NewSoftwares.net

Official URL:

http://www.newsoftwares.net