The list of the 500 most powerful supercomputers is just announced. The new list of the top 500 supercomputers is revealed in the Supercomputer Conference 2015, which held in Austin, Texas. There are some old computing monsters in the list and some new entrants as well. Supercomputer Conference is being held every year for the past 22 years, where annually or twice yearly, the list of the 500 most powerful supercomputers is being disclosed. I cannot discuss the whole list here, but, I will talk about the top five supercomputers that feature the current list.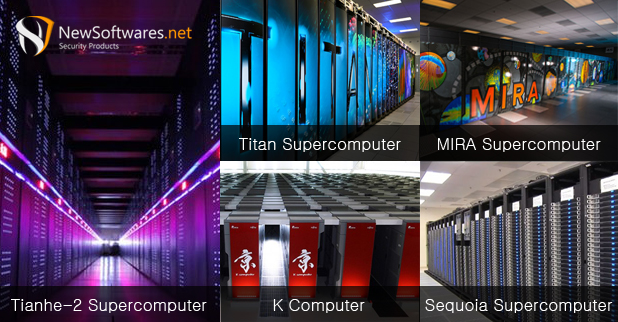 MIRA
Mira is one of the two Blue Gene/Q-powered system in the top five of this list. It was built by IBM and The Department of Energy's Argonne National Laboratory is the one that operates this monster computing machine. Mira can deliver 8,596 teraflop of performance. It is featuring in the list of top ten supercomputers since 2013.
Teraflop is kind of a performance measuring gauge of a computer's speed. The higher it is, the better the computer performance is.
K Computer
 K Computer is the most energy un-efficient supercomputer in the list. But, still, it is the most consistent name in the list of top 10 supercomputers since 2011. The supercomputer that displays around 10,510 teraflop of performance is manufactured by Fujitsu and is currently installed at RIKEN Advanced Institute for Computational Science campus in Kobe, Japan.
Sequoia
It is the other Blue Gene/Q system that is named in the top five supercomputers of the world. It is also built by IBM; however, it is installed at Lawrence Livermore National Laboratory in California. It can crank up unbelievable 17,173 teraflop of performance. It also has the second-largest number of total cores on the list, which counts 1,572,864. It was named as the fastest supercomputer on this planet in 2012, replacing K Computer.
Titan
Titan is built by Cray, it is used by the Oak Ridge National Laboratory in Tennessee. It is used for a variety of different science project by the laboratory. The supercomputer is indeed a super one, which can offer 17,590 of teraflop performance. It is the upgraded version of Jaguar, which was previously used by the Oak Ridge National Laboratory in Tennessee.
Tianhe-2
Tianhe-2 or Milk Way-2 is a beast! It tops the ranking for the sixth consecutive time and it looks like there is no once close to the performance of this Chinese supercomputer. This supercomputer displays a monstrous 33,862 teraflop of performance, which is nearly double of Titan's performance. It has a total of 3 million processors and accelerator cores that makes it the fastest in the world. It was built by a team of 1300 scientists and engineers.