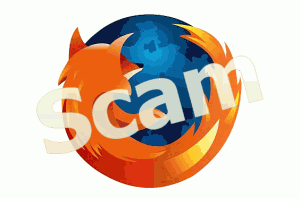 As soon as the news of Firefox 7 sprouted over internet, many people rushed to download it to experience the new features and all those new developments that were anticipated to be unleashed with Firefox 7. Hackers and scammers found it the best opportunity and a peak time to plan a strategy to fool people into falling into their evil traps.
Let's give you an idea of what they planned this time!
By Googling the term 'Firefox 7', the first Google result appeared in the search result is a link from the website firefox7.org. Makes any sense? No, let's give you a bit more information about Firefox and its original creators.Mozilla is the name of the organization that develops Firefox web browser. So, naturally any major update for such a product would be enlisted under the website of the original organization. This means that, if Firefox 7 is the latest update of the web browser, it should be shown under the website of Mozilla and not in a website made solely under its name.Hence, the search result shown by Google misleads the user to enter into an illegitimate website that doesn't have anything to do with the original creator.  All you'll find in that fake website is a bulk of promotional stuff about Firefox 7. While, at the bottom of the main page, you'll find what appears like some legitimate Firefox 7 download links for MAC, Windows and Linux, but clicking on those links takes you, not to the legitimate Mozilla website but to a weblog created with the domain of mozilla.blogspot.com.
Before finding out exactly where these download links were directed to, we were of the opinion that this person is a fervent fan of Firfox 7 and dedicated a whole page in its name.  But, the discovery that those download links direct the user to a misleading Mozilla blogspot, it was clear that the creator of such a thing is either trying to earn some revenue over the good name of Mozilla and its browsers or he is trying to gain traffic to the website so that later on he can upload some malicious stuff to the server to be infused into the systems of every person coming to download Firefox 7.
Ironically, the site is appearing on first position in the Google search results for Firefox 7 and the person who is behind all this scam is certainly trying to gain some advantage over it. It is, however, pretty silly on the part of Mozilla team that they have not yet reported Google to block this site or pull down its page ranking for the reason of copyright or misleading content. For a web browser as popular as Firefox, it's quite a big slip up on the part of Mozilla team for not having this domain registered already in their name so as to avoid any such thing from happening.
But, never too late for our readers as we are always here to keep you aware of everything that can compromise the security of your online as wells offline existence.
It is, therefore, advised to all of those people who want to upgrade their older Firefox browsers to the newer version to download the new update from the legitimate website of Mozilla only. All it requires is a bit of analytics and some of the awareness we spread, to spot the difference between the original and the fake one.   Always avoid falling into the traps of any fake third party website that might have some unfair motives attached with their smart moves. Beware and stay security aware with Newsoftwares.net