Multiple Accounts
Cloud Secure gives you the best Cloud Security Services regarding Cloud Computing Security. It enables you to use different Cloud Platforms such as Dropbox, Google Drive & One Drive. Cloud Secure is a complete solution for Cloud Security that is specially designed for the security concerned users.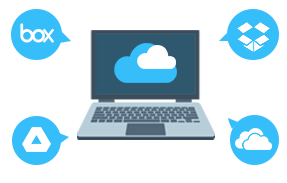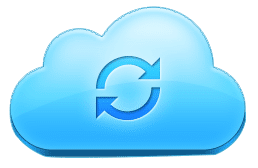 Seamless Syncing
There are many Cloud Security Solutions or services that promise to give unattainable protection but usually fail to deliver such promise. On the contrary, Cloud Secure fulfills its promise in giving you the ultimate freedom by enabling you to use different Cloud Providers along with seamless syncing.
Password Protected Interface
Cloud Secure enables you to protect your Cloud Data stored on different Cloud Providers and gives you the freedom to use a single password for different Cloud Services. It helps a user in maintaining an extra layer of security as a feature of added protection. Its unique password protective feature along with a user-friendly interface makes this security application as the go-to application.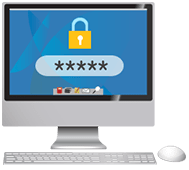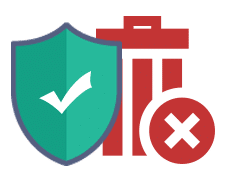 Prevent Deletion
Cloud Secure gives the perfect security services which are quite parallel to the standards & research of Cloud Security Alliance. Its password protection feature limits the prying eyes from damaging your data and prevents your account from any information, data or account deletion.
Features

Multiple Cloud Accounts
Locks and secures Google Drive, OneDrive, Dropbox and Box folders.

Prevent Deletion
Prevents non-authorized users from deleting your cloud folders.

Prevent Modification
Restrict other people from modifying your cloud files and folders.

Synced & Locked
Keeps folders password-protected and synced with your cloud accounts.

Setup Cloud Accounts
Conveniently download, setup and lock cloud account folders on your PC.

Password-Protected Interface
One password to secure all your cloud account in just one click.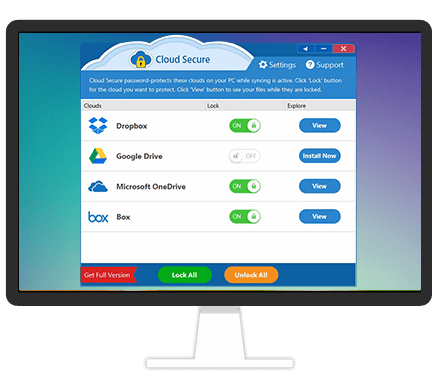 Cloud Secure
(Additional Information)
Overall rating:

Current version:

1.0.2

Updated:

09 Mar 2017

Category:

Security & Privacy

Operating System:

Windows 10, 8, 7, XP

Size:

8 MB

Price:

Free (7 Day Trial) / $34.95

Publisher:

NewSoftwares.net

Official URL:

http://www.newsoftwares.net