What's so special about Folder Lock 7?
Folder Lock has been a house hold name in data security for long. Now with the latest version 7, Folder Lock can do even more, you can encrypt, lock, backup and shred your personal files, on your PC and portable drives and use a mix of all these features and other security settings to achieve unbreakable protection for your important files. The new version is better, faster, more feature-rich, user-friendly, and has a better and bigger user interface.
Built from the ground up and no longer a simple encryption program that it used to be, the new version is a complete suite of seven data security tools, ensuring advanced security of your data and information.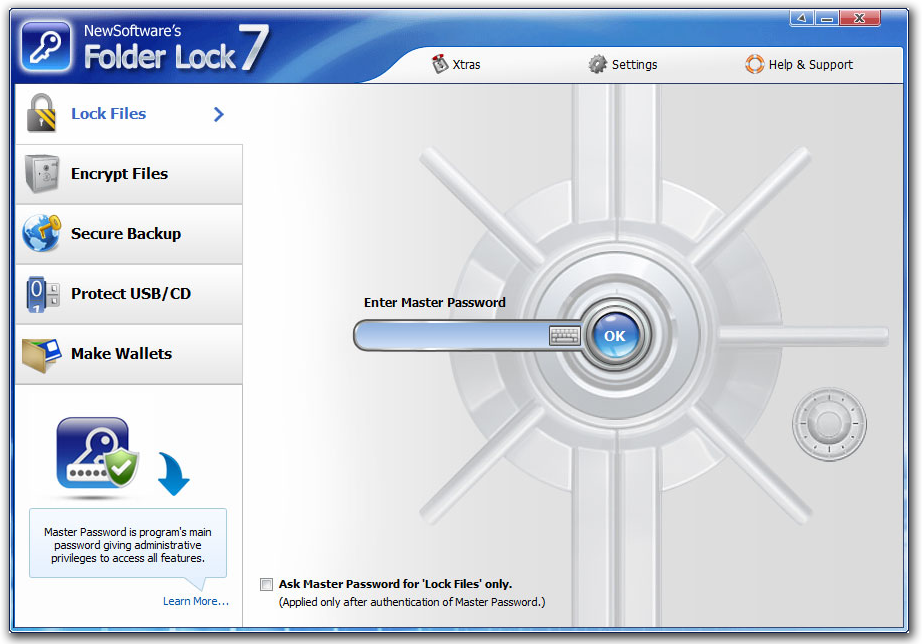 Unlike other encryption and backup solutions, Folder Lock 7 with its integrated encryption and backup solution will make it possible for true confidentiality, integrity and availability of your important files.

What makes it different from Folder Lock 6?
As compared to our previous version, we are now offering a patent pending technology that will allow you to both encrypt your files and back them up to an online storage without requiring you to decrypt or manually handle them. Everything is automatic, real-time and safe. You can restore your encrypted files anywhere and anytime.
Let's zoom towards the major differences that have been offered in the latest version, keeping in hold all the features that were offered in Folder Lock 6.Keeping in consideration, the every growing security need in places where multiple computer systems are connected together through a shared server, Folder Lock 7 makes it possible to create separate lockers on individual systems on the same server. With this enterprise level security, you can now also open your Lockers from network locations, like servers or can allow several users to store their data in them at the same time by setting Windows privileges on the mounted drive.
Unlike the lockers created in Folder Lock 6, which were static in size and occupied much of your system's hard disk, we now offer you the facility of making lockers that take up minimal space when created and are dynamic, expandable and grow as your need increases. Now, you have the flexibility to choose a maximum Locker size with respect to the amount of data you want to dump into it. The dynamic nature of lockers makes them expand as more and more files are dumped into them.
Contrasting the restriction of opening multiple lockers at the same time, Folder Lock 7 gives you the ease of opening as many lockers as you want and all of them can stay mounted at the same time. You can move your data from one Locker to another or easily access multiple files saved on different lockers or perform any sort of modification, what so ever.
Moving on to another surprisingly convenience driven feature, dissimilar to what we offered in Folder Lock 6, you can now move your Lockers to a USB drive or CD/DVD for portability and take them wherever you want. Bringing in the concept of executable locker, you can now convert your lockers into executables and can run as well as decrypt your data even on computers where you don't have Folder Lock 7 installed.
Introducing Backup Online feature in Folder Lock 7, you can now backup your encrypted Lockers to an online digital storage box of your own. This feature enhances data security for your information as you are now able to not only encrypt and protect your data through Lockers, but also backup these Lockers far away from madding situations which create data breach and loss scenarios.
Bringing in the one-way synchronization of the data you store in your lockers, it updates every modification you do in the data you have stored in your lockers. Every single modification gets synchronized seconds after you are done with it and close your lockers. However, if you happen to accidentally delete your files from your lockers on your local computer, it will still be available on your online storage so that it can be restored in the future. You can easily restore what you lost without having to go into the hassle of running high profile recovery programs and waste so much of your time.
Earlier in Folder Lock 6, the Lock Files feature allowed the user to lock and hide folders, drives, and files at the same time. Whatever got locked was hidden. Now, the current version gives you a choice to either lock the files you selected or hide them or lock and hide them both. Items that you lock, hide, or lock and hide remain that way even in Windows Safe Mode.
For users who wish to maintain a confidential list of their personal identification details, Folder Lock 7 offers a NEW and great way to do this in Make Wallets, a feature specifically introduced based on strong customer feedback. With 'Make Wallets', you can create secure and encrypted Wallets in your PC to save and store your personal information like your Credit Cards, Bank Accounts, Business Cards, Identity Cards, Social Security Cards, Residency Cards, and many other such information. 'Make Wallets' provides you with a feature-rich personal and confidential information protection and gives you the power to choose information from over 25 different categories, set passwords for each individual record, and on-screen snapshots of category and card information. 'Make Wallets' stores and saves all your personal and confidential information in an encrypted form.
For the parts of data that remain even after you successfully delete them, the advance Shred Files feature in Folder Lock 7 brings and advance level of file shredding by introducing data overwriting protocols specifically developed to secure data remnants successful and unrecoverable removal. It enables you to permanently shred and securely delete important or explicit material from your computer to prevent recoverability of your data. Shred Files also perform space shredding that permanently empties hard drive space to be sure that your previously deleted files are completely irrecoverable.
Folder Lock 7, with all its advance security procedures, comes forth with an advance level of file security that ensures absolute security of your files, folders and drives without having you to worry about their security ever.